Services - Artisan Dental
The Dental Practice of Dr. Nate Bourassa

Artisan Dental is a full service dental office in Coeur d'Alene. All of your dental needs will be taken care of at the office of Dr. Nathan Bourassa with exceptional dental care and a high level of precision.
Our machine is the industry leader in low dose imaging. It takes 3d xrays with a third the exposure of competing machines. Check it out at www.greenct.com. This machine takes 3d x-rays with a third the radiation as the 2D machine it replaced. The 2d images it takes are equivalent to two days of normal background radiation. With this technology we can literally look at teeth from any direction as opposed to only being able to look at a tooth from a single flat plane. The technology is vital to placing implants but also has many other uses. 3D images are useful for diagnosing broken roots, determining the cause and extent of infection, visualizing third molars and taking the guesswork out of just about anything out of the ordinary. The images are medical grade and can be interpreted by pathologists and radiologists if cancer is a family concern.
Five Benefits of Cone Beam Technology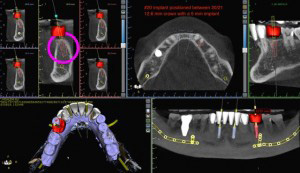 Diagnostic imaging is an important part of implant dentistry and is used to ensure safe and predictable treatments. Cone Beam CT Scan (CBCT) is an in-office imaging technique that provides 3-dimensional images of the jawbone, teeth, and surrounding vital structures that are important in planning the placement of dental implants. With its low cost, relatively low radiation, and ease of use, it is now a routine imaging technique for all dental implant treatments. Placement of dental implants using conventional dental X-rays is no longer an accepted practice and is highly risky.
There are five major benefits of cone beam CT scan (CBCT) for dental implant planning and placement:
1. Precision placement of implants in the bone:



CBCT allows the surgeon to accurately measure and localize the available bone. Using 3-D software, we do a virtual implant placement with precise position and sufficient bone coverage. If bone is deficient, it is augmented using various bone grafting techniques. The key is to place the implant where it best supports the restoration while keeping it in healthy and abundant bone.

2. Proper orientation of the implant with its overlying restoration:



A CBCT is merged with an optical scan of the patient's teeth (digital impression) to create a complete bone, teeth, and soft tissue virtual model. The dental implant surgeon and the restorative dentist then, in collaboration, design the perfect bite and precise position of the implants to support the planned restorations. This prevents misaligned implants, which may be difficult or impossible to restore, and avoids poor aesthetics and function.

3. Prevention of injury to nerves:



Using the CBCT, the surgeon maps out the path of the sensory nerves in the jawbone and selects the right implant length. Conventional X-rays are flat and distorted and are poor diagnostic images for predicting the position of the nerves. Nerve damage from dental implant placement results in partial or complete numbness of the lip and chin area, which can be potentially permanent. CBCT is a mandatory imaging technique to prevent this serious complication.

4. Prevent implant penetration into the sinus:



CBCT provides an accurate picture of the maxillary sinus and its position in relation to the available bone. The surgeon can make an accurate measurement and select the right implant length to avoid puncturing the maxillary sinus. Penetration of the maxillary sinus can lead to sinusitis or other inflammatory conditions. The surgeon can also plan for necessary bone grafting if there is insufficient bone to support the implant. Conventional X-rays are highly inaccurate for these purposes and do not provide the information necessary for the safe placement of dental implants in the back of the upper jaw and in the proximity of the maxillary sinus.

5. Selection of the right size implant for optimal support: The longevity and success of dental implants require maximal integration and stability in the bone. CBCT allows the surgeon to measure the available bone and select the widest and tallest implant appropriate for the site. This, in turn, helps to support the high bite (occlusal) forces and avoid potential failure from overload. Implant size selection should not be guesswork! Implant selection is made based on precise measurements, biological requirements, bite scheme, and individual patient needs.


With the clear benefits it provides by offering safer and more predictable outcomes, CBCT should be a mandatory diagnostic imaging for every implant treatment. Not using CBCT for planning is unwise for the surgeon and creates unnecessary risk for the patient.


EXAMS
Dental exams are usually performed every 6 months to a year depending on the health of your gums and teeth. Dr. Bourassa will determine the ideal interval for you. Regular dental exams are extremely important for preventative care and overall dental health. Catching problems early limits the size of the fillings and the scope of future problems.

TEETH CLEANING
Teeth cleaning is an important part of preventative care. Regular teeth cleaning cuts down on cavities, decay, periodontal disease and helps increase fresh breath. Dental plaque related bacteria have also been implicated in the plaques that form in cardiovascular diseases and are linked to many other systemic problems.

FILLINGS
Healthy fillings for your mouth and longevity is important to Dr. Bourassa. Artisan Dentistry uses the finest quality materials and will determine which type of composite fillings will help keep your teeth in good condition for many years.


It is hard to find a dentist in Coeur d'Alene that understands how to work with children. Dr. Nate Bourassa will be patient, friendly and put your child at ease. Artisan Dental's Healthy Smiles program offers incentives to motivate your child to care for their teeth by brushing and flossing regularly. Call to schedule your appointment today.


TEETH WHITENING
Years of coffee, tea and wine can take a toll on the overall color of your teeth. When you are ready to whiten your teeth, Artisan Dental will get you on a teeth whitening program to brighten your smile and change your confidence level. Several factors affect the esthetics of your smile and sometimes the proper solution can just be reshaping, adding a small amount of white filling material or veneers. These solutions don't require the extended treatment time that braces require and are often very stable.