About Us - Artisan Dental
The Dental Practice of Dr. Nate Bourassa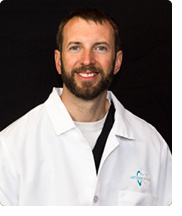 I was born and raised in a small town in central Minnesota called Brainerd. It is nestled amongst the lakes and trees. Growing up in the country I have always enjoyed hunting, fishing and exploring the great outdoors. I attended college at the University of Minnesota Duluth and obtained a degree in Biology with a minor in Chemistry. During college I always worked a job or two. My favorite job was being a snowboarding instructor and I made a few trips out west to explore the real mountains. After becoming a biologist I then went on to pursue a Doctor in Dental Surgery, DDS from the University of Minnesota located in Minneapolis. During dental school I took a trip with some classmates to the Coeur D Alene area and immediately fell in love. I had a dream that one day I would return. After graduating from dental school in 2007, I moved to Coeur d'Alene to be close to the mountains, lakes, and the bountiful recreational activities the area has to offer. In my down time I enjoy anything that keeps me active and healthy. I enjoy spending time with my friends mountain biking, snowboarding, rock climbing, windsurfing and spend any other free time getting involved in activities that keep me connected to the community. Aside from my desire to be a tooth artist I am also a painter. I primarily do oil paintings and would best be described as a landscape artist. I believe that my ability to see things from many perspectives and the attention to detail that I have developed through my artistic experiences will directly translate into a better dental experience for you.
Why Choose Dr Nate?

As a student of life I have always admired the values and the historical ideals of a Gentleman. A Gentleman is someone who is self-motivated. He is educated in as many disciplines as possible and always strives for continuous improvement. He works hard to serve others and adheres to a strict code of ethics. He is open minded to new ideas and mindful of what he doesn't know. A gentleman is educated in the arts as well as the sciences. I created Artisan Dental to express these values. As an artist I feel that I have a unique ability to understand detail, perspective, and how things are connected. I also have a background in mechanics. I grew up restoring classic cars and old houses with my Dad. These differing backgrounds help me understand how to plan out sequential treatment options and ways to think outside the box to achieve the optimal value for patients. This translates into better treatment options and outcomes that can meet your specific dental needs.

How We Excel

Our goal is to be known as the high quality value based dental practice in the Coeur d'Alene and Hayden lake area. The first way that we achieve this is by spending the time to get to know and understand our patients. You will feel at home from the moment you walk in the front door. We don't do assembly line dentistry and we believe that our patients deserve the time and individual attention necessary to create a relaxed and personalized appointment. We are a family practice which means that we are comfortable working on all the generations of patients that are referred to us. Whether it is introducing a four year old pediatric patient to the dentist on their first "Happy Visit" or helping a grandparent transition from a mouth full of problems to a denture we have you covered. We are comfortable with the full realm of procedures and only refer out in the rare event that it's in your best interest to consult a specialist. Fortunately there are specialists located just down the hallway within the same building.

What separates us from the competition?

We aim to bring back the old time feel of dentistry. We want to create lifelong relationships with our patients and earn their referrals. We want to keep things as consistent and predictable as possible. Our goal is to have the latest proven technology. We don't plan to spend lots of money on the newest flashy technology just to impress our patients. We will acquire new technology when the evidence and effectiveness have been proven. This helps us keep our costs very competitive while keeping the dentistry predictable. Many offices try to impress their patients with fancy new lasers, x-rays or computer aided crown designs. While some of these technologies do have applications they are not always as cost effective and predictable and can easily be over utilized to help justify their cost. We stand behind our work and will adopt new techniques when they make sense.

What is special about our location?

We have a great centralized location between several schools and the mall. Drop the kids off and get your shopping done, or quickly get them back and forth from school. We are located in a clean, modern building with convenient close parking. We are the first suite inside the ground level floor and we are handicap accessible. As an added bonus there are several specialists located within the same building. Right next door we have an Oral surgeon, Dr. Trevor Griffits, http://www.cdaomfs.com There is also a root canal specialist, Dr. Tim Penberthy, located in the same building. We are a one stop shop for all your dental needs.